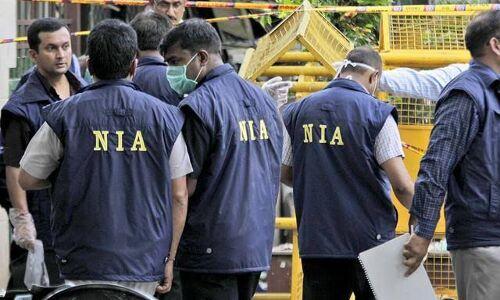 Hyderabad: National Investigation Agency (NIA) on Wednesday filed a charge sheet in Nampally court against three LeT operatives, Mohd Abdul Wajid alias Zahed, Samiuddin alias Sami and Maaz Hasan Farooq alias Maaz for raising funds, collecting explosives, and carrying out recruitment.
NIA had taken over investigations into the case in January 2023 from Hyderabad Police.

In a press release, NIA said Investigations have revealed that Zahed, Sami, and Maaz were in touch with Farhatulla Ghori, an 'individual terrorist' listed by the government of India. Simultaneously, they were also in league with Siddiqu bin Osman alias Abu Hanzala, Abdul Majeed alias Chotu and other LeT leaders and operatives. They had planned to carry out bomb blasts at crowded places in Hyderabad City.

NIA said Farhatulla Ghori, Siddiqu bin Osman alias Abu Hanzala and Abdul Majeed alias Chotu are both based in Pakistan. Ghori recruited Zahed from cyberspace and sent funds to him through hawala channels. Zahed was tasked to recruit more persons into LeT and to carry out terrorist acts. Sami, Maaz, and Mohammed Kaleem were instigated and prodded by Zahed to work for the LeT.

Four hand grenades were dead dropped at an isolated spot near Manoharabad village on Hyderabad-Nagpur Highway on September 28, 2022. Zahed got the hand-grenade consignment collected through Sami and then gave one grenade each to Sami and Maaz with instructions to hurl the same at public gatherings during the Dussehra festival.

NIA said their intentions could not bear fruit as they were arrested before the planned attacks. The grenades were recovered from their possession. During search. Rs 20 lakh was also seized from Zahed's house.

NIA filed a chargesheet in the Nampally Court on Wednesday against Zahed, Sami, and Maaz under sections 120B, 153A of IPC, sections 4, 5, 6 of the Explosives Substances Act, 1908, and sections 13, 17, 18, 18B, 20, 38, 39 of the UA (P) Act, 1967.