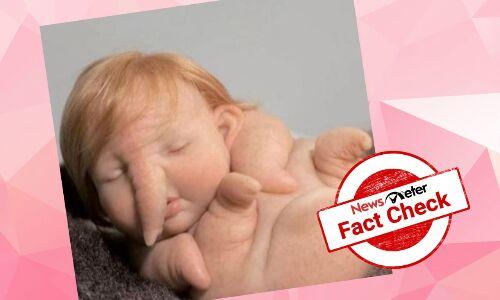 Hyderabad: An image of a baby reportedly born with a trunk instead of a nose and with ѕtгаnɡe limbs is doing the rounds on social media. A few articles claim that the baby is a reincarnation of Lord Ganesha.
An article titled "A Norwegian women gives birth to a baby elephant!" claims that millions of Hindus everywhere have begun a pilgrimage to Norway after a Norwegian couple recently gave birth to a half-human/half-elephant baby that many Hindu practitioners believe to be the reincarnation of Lord Ganesha.
Fact Check
NewMeter found that the claim is a HOAX as the elephant baby seen in the viral image is a sculpture created by an artist, Patricia Piccinini.
One performing a simple reverse image search of the viral image, we found that the "elephant baby" seen in the viral image is actually a creation of an Australian contemporary artist Patricia Piccinini.
Artist Patricia Piccinini is recognised for her hyper-realistic human-animal hybrid sculptures rendered in fibreglass, silicone, and sometimes hair. Her art has found an audience across Australia and beyond.
We found the exact same image uploaded by Patricia on her verified Instagram handle on 29 November 2019. The caption reads, "Newborn, 2010, Silicone, fibreglass, human hair, feral New Zealand possum pelt - Currently on exhibition in Belgium as part of 'Ceci n'est pas in corps' at La Boverie in Liège, Belgium."
You can check out her profile to view her other creations.
From the above investigation, it is clear that the baby in the viral image is not real but a sculpture.