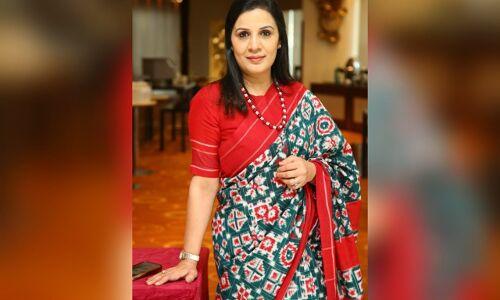 Prominent jewellery designer and businesswoman Ritu Shah has been appointed as the 22nd chair of the FICCI Ladies Organisation (FLO).
Her journey began in 2002 when she held her first standalone exhibition. Since then, she has made a name for herself.
Ritu's story is not only about her success in the industry but also about her journey as a woman, expanding her horizons through an inter-caste marriage in 1995.
Journey to Success
Coming from a prominent Agarwal family, Ritu's father is well-known in social circles. She got married to a Gujarati family, based in Hyderabad, who are into hotels and ice cream manufacturing under the brand names Scoops and Cream Stone. Her father-in-law was the one who encouraged her to join the business.
Speaking to Newsmeter, Ritu opened up about how her perspective towards women changed after joining her husband's family. "From the beginning, my father-in-law encouraged me to work in the office, and I began managing the administration department. I was committed to adding value to the business and eventually learned HR, store management, and administration," she said.
Ritu's journey in the world of jewellery began in 2002, with her first standalone exhibition, which was a great success. This prompted her to participate in the prestigious 'Yatra exhibition' for two years, which helped establish her brand, 'Ritu's Customised Designer Jewellery.'
"My interest in jewellery grew due to my in-laws' attachment to the concept, and I decided to pursue jewellery designing and gemology, including diamond grading after my second son was born. I studied all subjects related to jewellery for nearly one and a half years," she said.
Starting from her home, she gradually expanded her clientele, catering to family, friends, and new customers alike. With her passion and dedication, Ritu's business flourished, earning her a name in the industry.
Giving back to society
Ritu is also actively involved in social work. She co-founded the Kripa Foundation with her younger brother and a few friends ten years ago. The foundation works towards several social causes, including education, healthcare, and women's empowerment.
Mission to revive the traditional craft
Ritu is also passionate about promoting the historical craft of Telia Rumal craft. Originating from different parts of both Telugu states, Telia Rumal is a method for the oil treatment of yarn. She aims to revitalize this traditional weaving technique and introduce it to the world of fashion.
New chairperson of FICCI Ladies Organisation
Ritu's contribution to society and her leadership skills did not go unnoticed. She was elected as the 22nd Chairperson of FLO, an organization that aims to promote entrepreneurship and professional excellence among women. As Chairperson, Ritu has a task cut out. It includes skill development, digital literacy, and financial empowerment for women.
In line with the United Nations Sustainable Development Goals (SDGs), Ritu's theme for the year focuses on collaboration, innovation, and inclusivity. "Our tagline for this year − Sustain Her Ability, is envisioned on four main pillars: Health, Goals, Culture, and Education," she said. "I believe we can achieve great things together and positively impact our community."
Ritu's rise to the top is a testament to her hard work, perseverance, and dedication. Her success in both the jewellery industry and the social sector is an inspiration to many women who aspire to make a difference in the world.