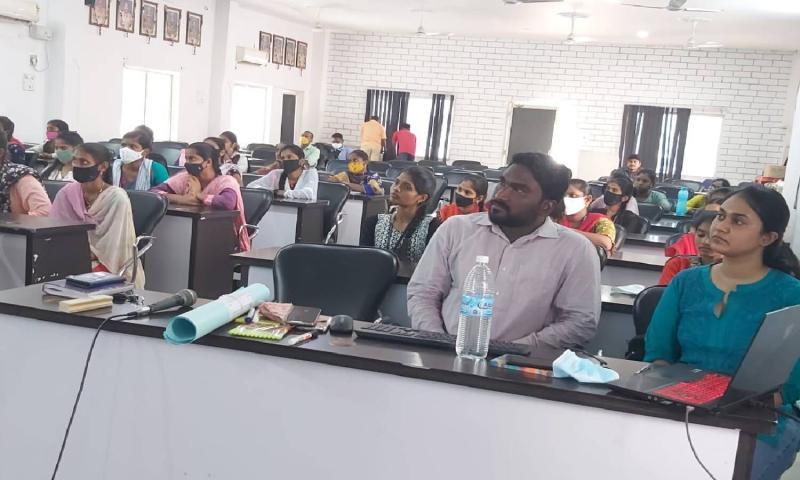 Hyderabad: Madhulika, a fourth-year B.Tech student from Ipparthy village in Nalgonda district, sometimes receives random messages from unknown numbers on her mobile phone. She used to block these numbers immediately. But now she knows that she can file a complaint against the people sending these messages and that they are committing punishable offences under the law. Thanks to the cyber security training programme being organised by the Nalgonda police.
The Nalgonda police, in collaboration with RedDot, has started training college girls on cyber security and ethical hacking. RedDot is a global organisation that collaborates with college students, professors, and administrators on sexual violence prevention through research, workshops, lectures, and their Safecity app.
On 22 March, 47 students from five colleges in Nalgonda – Mahatma Gandhi University (MG University), Government Degree College for Women, Nagarjuna Government Degree College (NG Degree College), Neelagiri Degree and PG College, and Nalgonda Degree College – attended a workshop as part of the training programme at the Nalgonda police hall. During the programme, which ran for over five hours, they were briefed about cybercrimes, especially against women like sexual harassment, stalking, money laundering, and the legal provisions that the women had like how the law works and punishment for such crimes. They were also taught some ethical hacking techniques.
"They gave us a lot of examples of how women face harassment and blackmail online. Further, they told us about our rights guaranteed by the law and how to complain about such offences. We learned that we could file a complaint even without revealing our identity," said Madhulika, a student of MG University.
Rajashekhar, a Nalgonda inspector, said the idea of starting something like this was to empower women to resolve such issues without going to the police station. "Women are neither required to come to the police station nor file an FIR. Instead, they can visit the cybercrime portal and submit the details there," he said. He also said that even if they are unable to access these portals, the girls or the women can reach out to SHE Teams and they will begin working on the case immediately, no matter how minor it is and even if an FIR is not filed.
In the next leg of the one-month-long training programme, each of these 47 students was required to teach whatever they had learned in the programme to 15 other women or girls in their colleges or villages. Madhulika proudly says that she was able to share all this information with her friends in her college who face similar issues on Facebook, Instagram, and Snapchat.
There are around 1,000 villages in the Nalgonda district and the Nalgonda police aim to take this information to the women in all these villages once they complete training the first batch and evaluate their outcomes.
Adding that the training was very helpful, Madhulika said such training is very essential. "Every girl needs to know about this because only if we know our rights, will we be able to fight for them," she added.