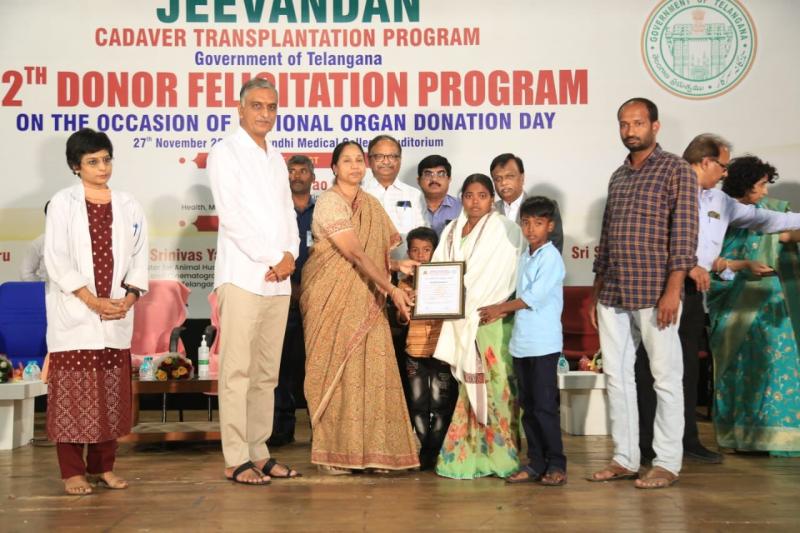 Hyderabad: On the occasion of National Organ Donation day on 27 November, Telangana health minister Harish Rao attended the 12th Organ Donor Felicitation programme at Gandhi Medical College here.
The Jeevandan programme for organ donations was launched in 2013, and so far, 1,142 brain-dead patients have donated their organs. A total of 4,316 organs were collected and transplanted to those in need.
Organs donated by one person can save eight lives.
Noting the importance of time in organ transplant surgeries, the minister said they would even use the state helicopter for the seamless transport of organs.
Speaking at the event, he thanked the 162 donor families who were present at the event and said they are an inspiration to many.
"As a result of your choice, many people have been born again today. Your relatives may not be there in front of you, yet they are still present in our midst as another," he added.
The minister further emphasized the need for more organ donations and said, "Due to lifestyle changes, many people need organ transplants. During the Covid pandemic, we saw lung transplants. The government will provide institutional support, but people should donate organs for those in need."
He further noted, "No matter how advanced the medical field is, kidneys, liver, heart, and other organs cannot be made artificially. Technology is not that developed yet."
Jeevandan portal
On organ donation in Telangana, the minister said, "Our state has launched an online portal for the first time to make the process transparent. The states of AP, Kerala, Gujarat, Odisha, and Karnataka, along with the Central government, are following our policy."
Speaking about the metrics, he said, "While the organ donation rate is 0.6% per 10 lakh people in the country, it is 5.08% in Telangana."
Though NIMS, Osmania, and Gandhi hospitals perform transplant operations, 36 government hospitals are registered with Jeevandan.
Till now, 433 transplants have been done—351 at NIMS, 71 at Osmania, and 11 at Gandhi Hospital.