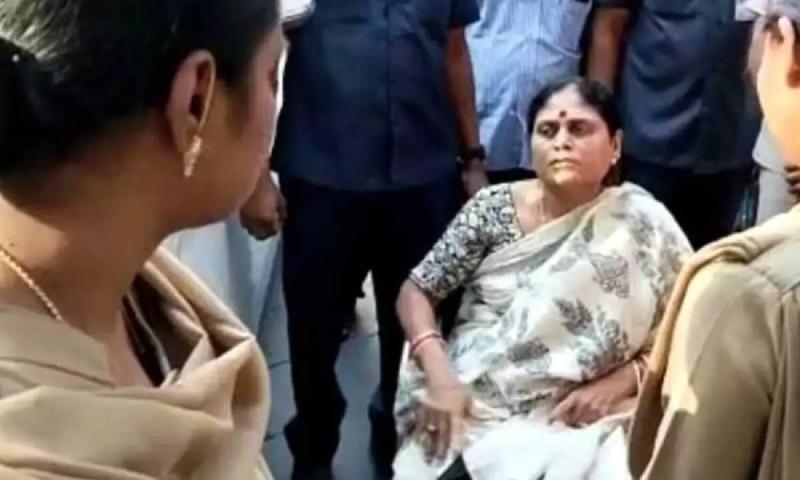 Hyderabad: Y.S Vijayamma, the mother of YRS Telangana Party president Y.S Sharmila and Andhra Pradesh CM Y.S Jagan Mohan Reddy, was put under house arrest in Hyderabad on Tuesday.
She was to start for SR Nagar police station, where her daughter was detained earlier on Tuesday for protesting near Pragathi Bhavan.
In a video shared on Twitter, Vijayamma is seen arguing with the police near her residence in Hyderabad. "Why am I being stopped from seeing my daughter? Should I call for a bandh? I am going to meet my daughter. If you want, you can follow me in your vehicles," she can be heard saying in the video.
Speaking with NewsMeter, Krishna Rao, a senior journalist and political analyst, opined, "They want to gain sympathy in Telangana to prove their existence and to gain a few seats in the coming elections. Jagan-KCR relations are already strained due to their relations with BJP and Modi. Jagan won't take this Vijayamma-Sharmila episode today seriously."
Earlier today, YSRTP president Sharmila's car was towed away by the Hyderabad police with her inside it.
Sharmila was going towards Pragathi Bhavan at Begumpet to protest the attack on her caravan on Monday at Narsampet, Warangal.
Her 'Praja Prasthana padayatra' caravan, which TRS workers allegedly burned on Monday, was also confiscated.
Sharmila's caravan was attacked during her Praja Prasthanam padayatra in Narsampet, allegedly in response to her comments about local TRS MLA Peddi Sudarshan Reddy. The mob broke the glasses of cars belonging to YSRTP leaders and later burned the caravan being used by Sharmila during the yatra.