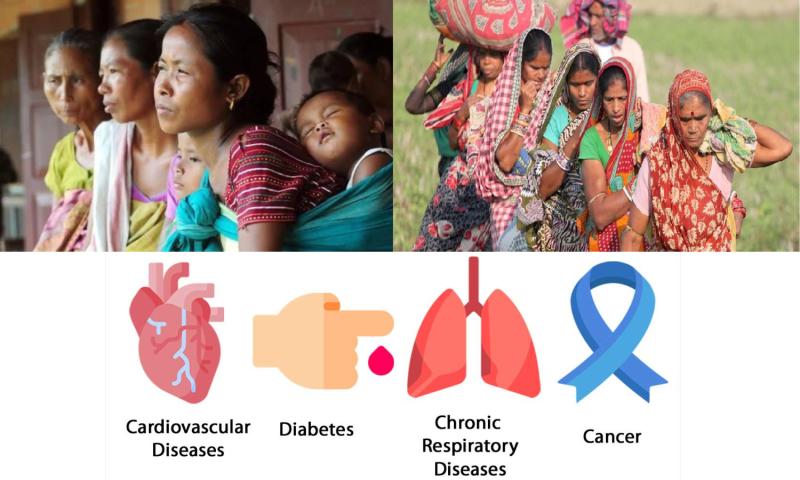 Hyderabad: A survey conducted by the Indian Council of Medical Research (ICMR) in 12 tribal districts of India revealed that non-communicable diseases (NCDs) were responsible for 66% of deaths in these areas.
The survey included 5,292 deaths among those above 15 years of age.
The study sites in the northeast (NE) region included Sikkim (all districts), Lunglei (Mizoram), Dhalai (Tripura), East Garo Hills (Meghalaya), Mokokchung (Nagaland), Dhemaji (Assam), Senapati (Manipur), and East Kemang (Arunachal Pradesh). The other four sites were Koraput (Odisha), Nicobar (Andaman and Nicobar Islands), Kinnaur (Himachal Pradesh), and Mandla (Madhya Pradesh).
The study found that infectious diseases (15%) and injuries (11%) were the other leading cause of death.
What are non-communicable diseases?
These diseases can be divided into four main categories—cardiovascular diseases (such as heart attacks and stroke), cancers, chronic respiratory diseases (such as chronic obstructive pulmonary disease and asthma), and diabetes.
Among them, cardiovascular diseases were the leading cause of death in 10 of the 12 places.
The survey also revealed hypertension (29%) was the leading pre-existing disease, followed by chronic respiratory disease/asthma (17%), stroke (12%), heart disease (11%), cancer (10%), and diabetes (9%) in all states.
In NE regions, hypertension was the leading pre-existing disease compared to chronic respiratory diseases/asthma being the leading cause in the other districts.
Lifestyle problems
The study found that 42% of the deceased had smoked five years before death and 37% had used smokeless tobacco. Alcohol consumption was prevalent among 47% of the deceased in the previous five years.
Infrastructure
The survey also exposed the lack of infrastructure in the tribal areas and found that 70% of the deaths occurred at home, making it the most prevalent place of death.
Over one-fourth of the deceased were not receiving treatment for a pre-existing condition. The remainder received care from various places—13% from a local physician or a tribal healer, 25% at the district hospital, 20% at a private hospital, 19% at PHC/CHC/rural hospital, and 9% at a medical college/cancer hospital.
This community-based survey highlighted that NCDs in India's tribal populations were the leading cause of death, suggesting that control of NCDs should be one of the public health priorities for tribal districts in India.