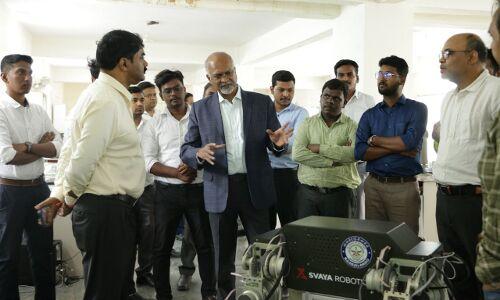 Hyderabad: Hyderabad-based Svaya Robotics, in collaboration with DRDO Labs–Research and Development Establishment, Pune (R&DE) and Defense Bio-engineering and Electro Medical Laboratory, Bangalore (DEBEL), has developed India's first quadruped robot and wearable exo-skeleton, respectively, as technology demonstrators with their design inputs.
Defense and security are undergoing rapid transformation driven by technology and robotics is poised to play a very important role with DRDO taking the lead to develop them indigenously under "Make in India" along with industry partners such as Svaya Robotics as development partners.
Currently, these robots are being imported from the USA and Switzerland to help India's defense requirements and to strengthen the country's defense capabilities. These robots are made for structured environments with limited capabilities and are not suited for deployment in difficult-to-manoeuvre terrains and field operational conditions that Indian defense and security forces are uniquely faced with.
'Robotics will enable Indian defence'

 Dr. Sateesh Reddy, the scientific advisor to the minister of defence and former chairman of DRDO, visited Svaya Robotics development facility in Hyderabad, along with other senior scientists of DRDO labs–R&DE and DEBEL on Monday.
Dr. Sateesh Reddy reviewed the development of the robots that Svaya has undertaken to develop with DRDO inputs. Dr. Sateesh Reddy said, "We are extremely happy with the rapid progress that Svaya Robotics was able to achieve in a very short period. Development partnerships like these are essential to accelerate development of advanced robotics in India and take them into field trials fast and also keep developing them for dual-use in both defence and industry."
He was emphatic that robotics would play a very important role in enabling Indian defence in both augmenting soldiers and also in providing unmatched remote reconnaissance capabilities.
'Dual-use robots for both industry and healthcare'

Vijay R. Seelam, founder and managing director of Svaya Robotics said, "We are happy to associate with DRDO as part of Aatma Nirbhar Bharat mission to make India self-reliant. The quadruped robot was indigenously developed by Svaya in collaboration with DRDO and is made for navigating in unstructured terrains to provide remote reconnaissance and inspection for the defense and security forces which otherwise are not safe for humans to operate in. While the exo-skeleton is being developed by Svaya to suit Indian soldier's anthropometry and augment soldier strength for both walking long distances without fatigue and to lift heavy loads without expending much effort, both are dual-use robots and have multiple use cases in both industry and healthcare."
Svaya Robotics, based in Hyderabad, is a pioneer in developing state-of-the-art human-augmenting robotic systems backed by 10 years of research and development focus. Svaya has introduced in the market India's first collaborative robots, completely designed and manufactured in Hyderabad. Svaya's best-in-class robots work with and alongside human workers safely to enable companies in manufacturing and beyond to leverage their human expertise while being precise and productive with unlimited flexibility.