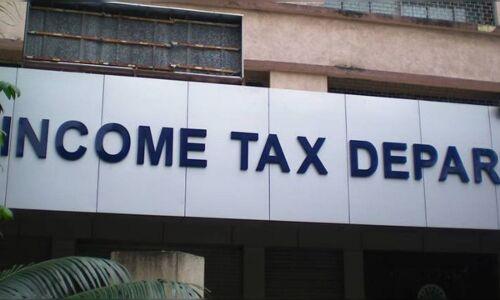 Hyderabad: The Income Tax (IT) department has seized assets worth Rs 1179.53 crore from April to November 2022. It is the highest seizure of IT to date, the Union Ministry of Finance informed the Lok Sabha
However, the figures do not include unaccounted cash seized during a search/raid against a specific entity. The Anti-Tax Evasion wing of the income tax department works on credible information about possible evasion and carries out raids.
Prime Minister Narendra Modi's government has been massively criticized for using central investigating agencies like the Central Bureau of Investigation, Enforcement Directorate, and Income Tax as weapons against its opposition. The highest number of raids was conducted against the opposition-led state governments, reports said.

The income tax investigation wing conducted searches at Phoenix Infrastructure Private Limited, in Hyderabad. Sleuths also are focusing on tax evasion by the top real estate company. To name a few, Income tax searches on two real estate companies across Hyderabad, Bengaluru, and Chennai. Vasavi Group and Sumadhura

Searches on three real estate companies in Hyderabad and Kurnool have unearthed unaccounted cash transactions of Rs 800 crore. Searches were made against Skandhanshi Infra Projects, Raga Mayuri Developers, and Navya Developers. About Rs 80 lakh was seized. Income tax sleuths raided R.S Brothers, Oppo Mobiles Telangana Private Limited. The BRS government in Telangana has been lashing out at the BJP for using the Income tax to allegedly harass businessmen.

To recall, Hyderabad-based Yashoda Hospitals donated Rs. 10 crore to the Bharatiya Janata Party (BJP) during the financial year 2021-2022, according to the report submitted by the party to the Election Commission of India. The BJP, in total (individual and corporate contributions minus electoral bonds), received a whopping Rs. 960 crore donation during the same year.

The timing of the donation is significant since it comes a year after the Yashoda Group was raided by Income Tax sleuths. On 23 December 2020, the IT officials carried out searches at properties owned by Yashoda Healthcare Services Private Limited.

How do Central Investigating Agencies get information about money parked in offshore companies?

The Centre has entered into Double Taxation Avoidance Agreements /Tax Information Exchange Agreements /Multilateral Convention on Mutual Administrative Assistance in Tax Matters with other countries. This agreement provides for the exchange of information, which is foreseeably relevant for the administration and enforcement of domestic laws concerning taxes.

IU-India is a member of the Egmont Group, an international organization for the exchange of information and cooperation among Financial Intelligence Units (FIUs). The group comprises 167 members as of date.

This group can exchange freely information on a real-time basis through a highly secured network - 'Egmont Secured Web' (ESW) - on various matters as per their roles and functions.

FIU-India has also entered into Memoranda of understanding (MoUs) with 48 countries to strengthen bilateral relationships with its foreign counterparts from 2008 to 2022 for the exchange of intelligence. However, there is no official estimation to measure the amount of black money in the country.

Table: Details of assets seized during the search & seizure operations by the Income Tax Department from FY 2017-18 to FY 2022-23 (upto November 2022):

Financial Year No. of groups searched Value of assets seized (in Rs. crores)

1.2017-18 (582) Rs 992.52 Cr 

2.2018-19 (966) Rs 1567.07 Cr

3.2019-20 (984) Rs 1289.47 Cr

4.2020-21 (569) Rs 880.83 Cr

5.2021-22 (686) Rs 1159.59 Cr

6.2022-23 (Upto Nov 2022)* (438) Rs 1179.53 Cr