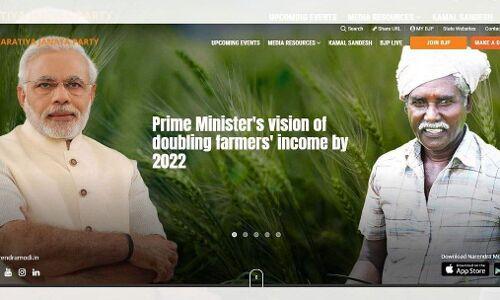 Hyderabad: Bharatiya Janata Party (BJP) spent a whopping Rs 313,17,09,369 on 'advertisement and publicity' alone in the last fiscal. The party disclosed it its annual audit report submitted to the Election Commission of India on January 17, 2023.
Pertinently, funds spent on advertisement and publicity constitute the highest expenditure of the BJP. It is followed by travel expenses, according to the report. In 2022, BJP spent Rs 151 crore more on publicity compared to 2021.
A New Delhi-based V. K Thapar & Co audited the financial statement of the BJP for the last financial year. Not too long ago, the information and broadcast minister Anurag Thakur informed the Lok Sabha that the ruling party at the center spent a whopping Rs 6491 crore on advertisements in print and electronic media in the past 8 years.
While the government spent ₹3,260.79 crore on advertising in electronic media, it spent ₹3,230.77 crore in print media since it came to power in 2014 until December 2022.
Expenditure break-up:
BJP in 2021-22 spent Rs 164, 01, 74, 805 on advertisements alone. The remaining was spent on creatives including hoardings and promotion on print and electronic media.

Advertisement: Rs 164,01,74,805 

Creatives

Audio content: Rs 68.17 Lakh

Video content: Rs 17.72 Cr

Hoarding banners, cutouts: Rs 36.33 Cr

Electronic Media: Rs 72.28 Cr

Print Media: Rs 22.12 Cr

Additionally, BJP spent another huge amount on air travel. The total expenditure on aircraft and helicopters amounts to Rs 117.41 Crore, while Rs 5.30 Crore was spent on boarding and lodging. Other travel expenses amounted to Rs 10.51 Crore. The total spending on travel alone is Rs 133.228 Crore.

BRS Expenditure:
Telangana Rastra Samithi which has been rechristened Bharatiya Rastra Samithi informed the ECI that it spent Rs 7.21 crore on advertisements and another Rs 56 lakh on election expenditure in 2022. Telangana witnessed by-polls to some of the most important constituencies in 2021 including Nagarjuna Sagar.

YSRCP

Jagan Mohan Reddy led YSRCP in Andhra Pradesh spent zero on Advertisements and propaganda, at least going by the report. The only expenditure it met was for electioneering of about Rs 30 lakh. While the party received Rs 60 crore from electoral bonds and Rs 20 crore from the electoral trust, constituting its major source of income from undisclosed sources. Surprisingly, no mention of how much is being paid to its management consultant IPAC. Prashanth Kishore led team continues to campaign and promote YSRCP in Andhra Pradesh.